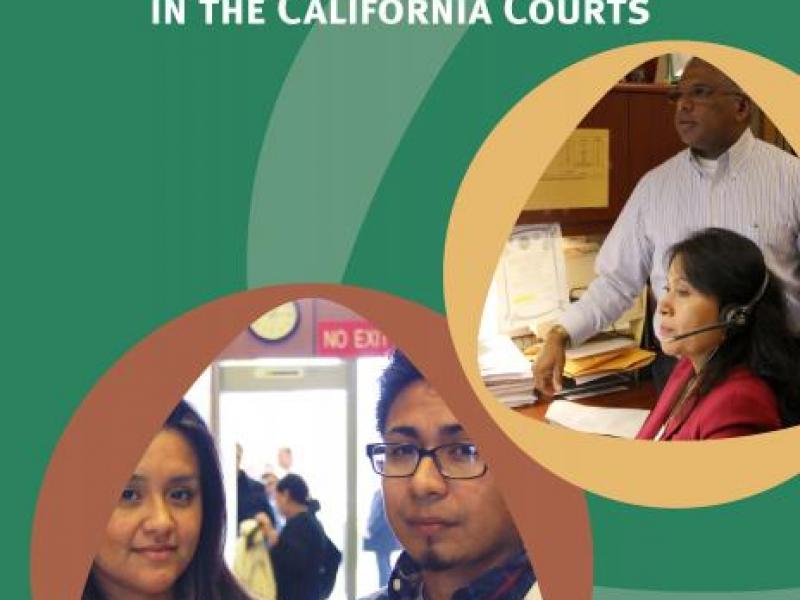 Report: California Strategic Plan for Language Access in the Courts (2015)
More than 200 languages and dialects are spoken in California.  Without proper language assistance, Limited English Proficient (LEP) court users may be excluded from meaningful participation in the judicial court process. In January 2015, the Judicial Council adopted this statewide Language Access Plan (LAP) Report (courts.ca.gov; pdf) to provide recommendations, guidance, and a consistent statewide approach to ensure language access throughout the courts.  The Language Access Implementation Task Force, chaired by California Supreme Court Justice Mariano-Florentino Cuéllar, advises the Judicial Council on implementation of the LAP recommendations.
In addition to this plan, California's Judicial Branch also maintains a language access webpage (courts.ca.gov), noting that court users come to courthouses because they have a problem that they cannot resolve on their own. The state constitution requires that courts provide interpreting services for court users involved in criminal and certain juvenile cases. Efforts to expand interpreting services in civil cases are underway. Without proper language assistance, limited English proficient (LEP) court users may be excluded from meaningful participation in the judicial process. Many LEP litigants appear without an attorney, and friends and family members who act as interpreters often do not understand legal terminology or court procedures. Further, LEP court users' language needs are not limited to the courtroom; the need for language assistance extends to all points of contact for the public. The Courts are searching for new solutions for these issues including more efficient use of existing resources to help improve and expand language access around the state.