Working Group: Justice Tech Entrepreneurs Webinar Recap
A list of webinar topics and links to recordings

[last updated 11-15-2021]
This group seeks to build consensus about how best to deploy, design, and develop justice technology by supporting a community of practice for entrepreneurs delivering ancillary products to courts, legal aid, bar associations, and self-representated litigants.
To request information about how to engage the Justice Tech Working Group, please contact the Working Group facilitator: Eduardo Gonzalez, at [email protected].
Visit the working group Write-ups Section to view and contribute to content developed in collaboration with working group members and network colleagues.
This month we discuss Pitching a Justice Tech Idea. How do you determine the focus of your pitch? What kinds of pitches are there? How do you craft a pitch to a specific audience?
This call is for you if you are interested in advice and insights from startup advisors who have helped guide ventures to scale their business and impact. We were joined by an awesome panel of experts well versed in turning legal tech ideas into successful ventures. Watch the recording to hear from Kelli Raker, Managing Director at the Duke Law Tech Lab, Maya Markovich, advisor to many startups, and Hannah Calhoon, VP of Innovation at Financial Health Network and the founder of Blue Ridge Labs Incubator.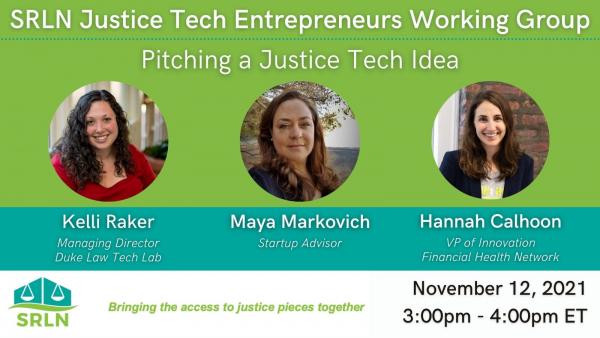 This month we heard from Carrie McCully, Deputy Director of Civil Justice, Inc., & Karlia Brown, Project Manager at Civil Justice, Inc., and Joseph Schieffer, CEO of A2J Tech, about their experience creating a sustainable tech tool that meets the needs of litigants in Maryland. This tool is a product of a partnership between Civil Justice, Inc. and A2J Tech and we are pleased to share their insights about running and managing a justice tech project that produced a tool for litigants to organize their court information & keep them oriented as their case progresses.
Visit the Maryland Justice Passport website to learn more about the project.
The Maryland Justice Passport is a product of the partnership between Civil Justice, Inc. and A2J Tech.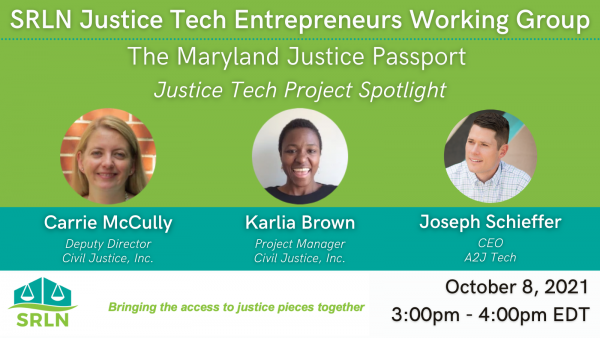 This month we were joined by Ken Friedman, who was previously the Vice President and Deputy General Counsel at LegalZoom.com, Inc. The focus of this call is on scaling social impact and pushing back against technology and innovation naysayers. Ken specializes in assisting disruptive companies steer their way through the legal and regulatory minefield. After beginning his career at a large, international law firm, Ken has continued his career as general counsel and as an advisor to entrepreneurial companies. Currently, Ken advises a number of companies, both formally on their Board of Advisors and informally as a colleague. His initial job at LegalZoom was to analyze and balance risks to ensure the company's survival during a time of both hypergrowth and relentless attacks from the legal establishment, while also focusing on traditional legal activities. 
This month we heard from Lucy Ricca, Executive Director of the Utah Supreme Courts Office of Legal Services Innovation, about the Utah Regulatory Sandbox program. The Utah Sandbox program through which entities may use new models for legal businesses and offer new kinds of legal services to Utah's public. We are delighted to be joined by Lucy on such an important topic. Legal services delivery is changing and rethinking regulations is leading the way.
Lucy Ricca is the Executive Director of the Office of Legal Services Innovation. Lucy has been critical to the design and implementation of the regulatory reform project in Utah and participated in leadership reenvisioning legal regulation. She was a Special Project Advisor at IAALS, advising on the Unlocking Legal Regulation project. She served as the Executive Director of the Stanford Center on the Legal Profession from 2013 – 2018 and remains a Fellow of the Center. She also served as a Lecturer at Stanford Law School and has written on the regulation of the profession, the changing practice of law, and diversity in the profession.
This month we held an Ask-Me-Anything style session with Josh King, General Counsel at RealSelf. We discussed everything from his experience at Avvo and his insights into legal tech business, including scaling legal tech, leveraging market potential, and navigating startup risks.
Josh King served as chief legal officer and general council at Avvo, the online marketplace for legal services. He helped grow Avvo from its beginning as a startup to its later acquisition. Josh now serves as general counsel at RealSelf, the most trusted provider of information for people considering elective cosmetic treatment. Josh has been a member of the California State Bar for 27 years, and a member of the Washington State Bar for 6 years.
After the working group call, SRLN Facilitator, Eduardo Gonzalez put together, 10 Takeaways from SRLN's March 2021 Justice Tech Panel, to help capture insights discussed during the call.
This month, we were joined by Dorna Moini, Simon Boehme, and Lori Gonzalez to discuss advice and strategies for improving awareness about your justice tech work. Our speakers are leaders in legal tech and bring a wide range of experiences to help you reach users, clients, and partners. See bio's below.
Dorna Moini is the CEO of Documate, a no-code platform for building document automation and client-facing legal apps. Dorna was previously a litigator, and she worked with legal aid organizations to build a guided interview for domestic violence survivors, which led to the idea for Documate - as a platform for others to do the same with no technical background. Dorna is on the LSC Emerging Leaders Council, is a member of the LAFLA Advisory Board, and teaches the Legal Innovations Lab at USC Law School.
Simon Boehme works at the intersection of dispute resolution and legal innovation. Simon is Vice President of Partnerships for Legaler and President of Legaler Aid. He recently served on the State Bar of California's Access Through Innovation of Legal Services (ATILS) Task Force. As a tech entrepreneur and mediator, he has founded and advised multiple legal tech companies, along with writing and teaching online dispute resolution for the past 10 years.
Lori Gonzalez is an experienced legal professional, consultant, and coach. Her experience in the legal field and desire to improve everyday struggles within it, caused her to found The RayNa Corporation - a company dedicated to cultivating law firms and attorneys. Lori's vast experience includes legacy practice management programs like PcLaw, Needles, and TimeSlips. She is a Pro Certified Consultant for Clio and a Certified Partner consultant for RocketMatter.
Kristen Sonday, the Co-Founder and COO of Paladin, discusses her recently published study that explores diversity in legal tech, why diversity matters, and how we can cultivate change in the legal tech ecosystem. You'll hear about her findings and what it means for diversity initiatives today. Kristen's report provides an update on similar research she conducted in 2018, so this talk is a chance to discuss what has changed over time. Kristen will also share tips to help navigate the system as a diverse founder.
Kimberly Lowe offers tips and guidance for considering benefit corporation status under state statute and B-Lab's B Corp certification. Kim has  nearly 20 years of experience guiding for-profit and nonprofit enterprises through the business life cycle. She is a professional, an educator, and leader in her community and has spoken regularly on issues concerning start ups and social enterprises. Kimberly has previously served as the Hennepin County Bar Association President and a number of Minnesota State Bar committees. She has also worked on drafting initiatives for the Minnesota Public Benefit Corporation Act and Nonprofit Corporation Act.
Members of Code for America brigades in Tulsa and Nashville discussed civic and community oriented tech projects. The conversation centered around components that cultivate sustainable, community-based tech solutions. Using Courtbot as a case study, speakers discussed the role justice technology has in addressing civil justice needs.
You will find links to the Courtbot repository, presentation slides and materials here: https://discourse.codeforamerica.org/t/courtbot-2-0-brigade-congress-201....
See a recent demo presented by Se Yeon Kim here: https://www.youtube.com/watch?v=PQtBdB8CZc4.
Panelists included:
Se Yeon Kim, Code for America Tulsa
Timothy Eccleston, Code for America Nashville
Our panel discussed a range of topics centered around their experience navigating pandemic related changes to delivering legal tech and their advice for budding justice tech entrepreneurs.
Panelists included:
Felicity Conrad, Co-Founder and CEO,  Paladin
Sonja Ebron, Co-Founder and CEO,  Courtroom5
Dorna Moini, Founder and CEO, Documate
Miguel Willis, Program Director,  ATJ Tech Fellows
Georges Clement, Co-Founder, JustFix, norent.org
Scott Kelly, Co-Founder and President, Community.Lawyer
Joseph Schieffer, Founder and CEO, A2J Tech Store
(interviewed prior to call) Amanda Brown, Executive Director, Lagniappe Law Lab
(interviewed prior to call) Diego Alcala, Founder, Puerto Rico Legal Tech
Sonja Ebron, co-founder and CEO of Courtroom5, and Scott Kelly, co-founder and President of Community.Lawyer, presented on their experiences participating in legal tech incubators and accelerators. As mechanisms for jump starting a product, services, or operations project, these programs provide a great deal of support, education, and opportunity.
Nicole Bradick, co-founder and CEO of Theory and Principle, and Eli Mattern, Interim Director of Technology at The Florida Bar Foundation and co-founder and CEO of SavvySuite, shared their wisdom about working with and delivering technology tools to access to justice constituencies.
Jim Harris, Technology Consultant at the National Center for State Courts, and Jason Tashea, Product Manager at Quest for Justice and former technology reporter at the ABA Journal, presented on the Joint Technology Committees work on standardizing court technology infrastructure and cybersecurity practices to consider when delivering technology solutions to the civil justice community, respectively.
Paula Hannaford, Director of the Center for Jury Studies at the National Center for State Courts, presented on the complexity of state judicial systems. This serves as an introduction to judicial interfaces justice technology entrepreneurs must navigate.