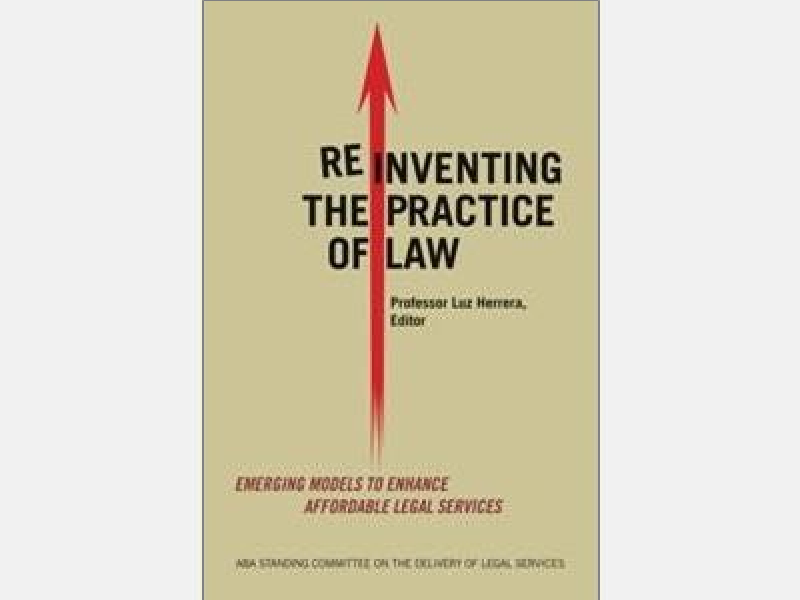 Book: Reinventing the Practice of Law: Emerging Models to Enhance Affordable Legal Services (ABA 2014)
A compendium of essays on ways in which lawyers can change their practices to improve their environment — for themselves, their clients and their neighborhoods. The book encourages lawyers to step out of the conventional mold and consider how they can create better practices when providing legal services geared toward the individual. Available for purchase in its enitrety or individual chapters from the American Bar Association's Standing Committee on the Delivery of Legal Services.
The book will be useful for solo and small firm lawyers and those concerned with preparing tomorrow's lawyers for sustainable, satisfying careers, as well as for managing partners and others who seek to help clients deal with legal problems of everyday life. Its essays describe how legal innovators have begun to make the legal system more accessible to moderate-income clients. 
The authors, a group of distinguished lawyers, address the practical, ethical and business dimensions of new ways of providing legal advice and assistance. They explore a number of innovative initiatives, including unbundling of legal services, the role of the lawyer as peacemaker, making lawyers more accessible to clients, growth of online legal services, fee-shifting statutes and attorney incubator projects. 
"Reinventing the Practice of Law" highlights benefits that result from changes at the community level, examining, for instance, the success of a project that creates a community-based network of lawyers. It also provides tools and resources to support recently admitted lawyers dedicated to practices advancing social justice and concludes with an analysis of nonprofit co-pay law firms scattered around the country. 
The book's editor, Luz Herrera, is a professor, an attorney and a community innovator. She recently launched the Small Business Law Center at Thomas Jefferson School of Law in San Diego. Before entering academia, Herrera ran a solo law practice in Compton, Calif., and was the co-founder and board president of Community Lawyers Inc., a nonprofit organization that provides low- and moderate-income people access to affordable legal services and develops innovative opportunities for attorneys and law students in underserved communities.