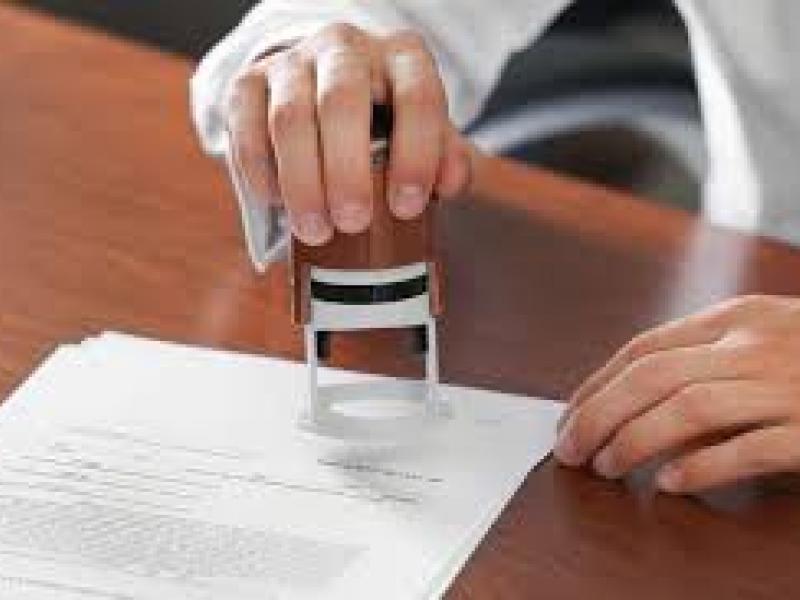 Document Author(s):
Year Published:
Tags:
SRLN COVID-19 Brief: Managing Document Notarization Requirements During COVID (News 2020)
With COVID-19 impacting the ability of litigants everywhere to have legal documents including affidavits and verifications notarized, four approaches to resolving the issue have emerged: socially distanced notarization, the elimination of notarization requirements through a rule change, remote notarization, and authorized submission of a document noting that a notary was unavailable. NCSC recently held a Tiny Chat on Signatures, Notarization, and Services in addition to compiling a guide for courts to ensure accessible options and information regarding notarization are available for court users.
In select states, courts have eliminated the requirement of document notarization through a rule change. This change most often occurred pre-COVID in the context of implementing e-filing. Minnesota did so in 2018 on all e-filed documents with the exception of those specifically required by court rule. Other examples of this include New Hampshire, which took a similar approach when launching e-filing, as well as Wisconsin. At least one state (Alaska) has authorized litigants to submit a document indicating a notary was unavailable at the time of submission.
Where notarization is still required, remote notarization appears the most widespread and promising solution to keep all parties safe while ensuring cases can continue to move forward. 28 states have temporary authorizations in place that allow for remote notarization due to COVID-19 while 14 states enacted and implemented remote notarization pre-COVID. For those states with emergency orders in place, specific notarization requirements vary and can be found detailed by state here. 
There are various methods of remote notarization. Pre-COVID, there were two options used most for nontraditional notarization: e-notarization and remote online notarization (RON). The first still required meeting in-person and thus doesn't fit well for the current pandemic circumstances. Traditional RON enables the notary and signer to be in different places by meeting up over an audio-video platform. Some states require that the process be recorded and kept or submitted while others do not. In states that were RON-friendly pre-COVID, notaries are often required to receive specified RON training and operate on approved remote notary platforms. The final solution, audio-video or A/V notarization, allows notarization to occur on a variety of platforms, from FaceTime to Skype. While this is likely the best fit for the current pandemic environment, it may be considered less secure than using an authorized RON platform. 
In those states without remote notarization authorization or a rule change, or in cases where remote notarization is inaccessible to litigants, notarization may be done via drive-throughs or in-person while observing social distancing. North Carolina's Secretary of State offers very clear guidelines for the latter option, though this approach assumes litigants are comfortable and able to leave their homes. 
If exploring remote notarization, it is critical to review state-specific guidelines. In some cases, remote notarization can only be done by licensed attorneys or those operating under the supervision of one. In certain instances, the notary and the signer must be in the same state while in others, only the notary must be present in the state where remote notarization is authorized. Changes to remote notarization provisions are changing rapidly, with some states issuing temporary authorization and others leveraging this moment as an opportunity to open up its legality post-COVID. 
As courts enable remote notarization, it is critical to note that this option assumes court users have access to the required software and connectivity to execute the notarization via a smartphone or online application. To ensure all court user needs are met, NCSC suggests courts consider installing secured drop boxes outside of courthouses for document submission. In addition, they note remote and e-signature policy changes are shared in plain language, with all options clearly noted and easy to find.