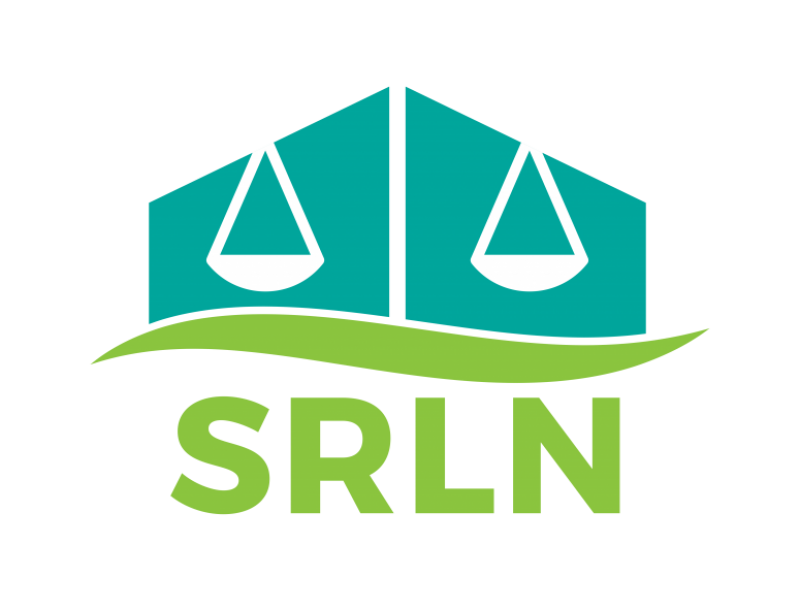 SRLN 2021 Forms Competition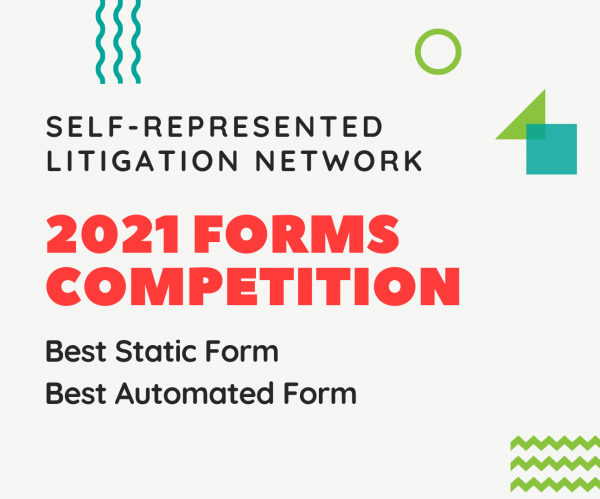 A giant congratulations to our SRLN 2021 Forms Competition Winners!
Automated Forms Category: UMKC School of Law, Bloch Law Library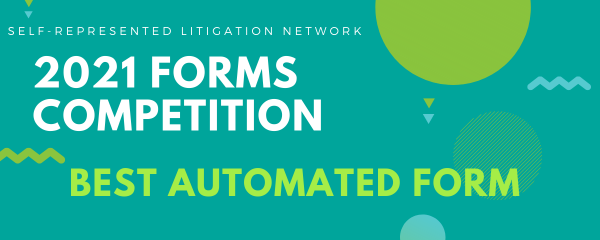 Static Forms Category: Minnesota State Court Administrator's Office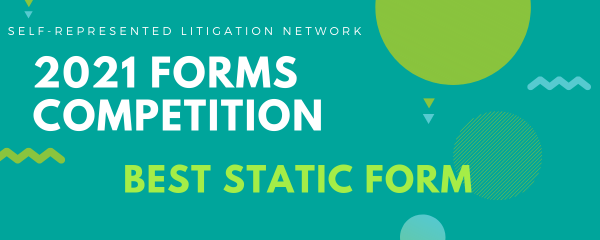 About the 2021 Forms Competition
The Self-Represented Litigation Network hosted the 2021 Forms Competition between April and May 2021. In 2017 the SRLN Forms & Technology Working Group held its first ever Forms Competition. Courts, legal aid organizations, and their community partners endeavored over the last year to put up remote services for communities navigating the legal process, and forms like these were foundational to that work.
Please join us in celebrating our contestants and our winners, who all created forms responsive to the needs of their jurisdiction. Below we have highlighted trends across our 19 contestants, as well as fun facts about the composition of our competition. See the SRLN 2017 Forms Competition page for details about the 2017 competition.
View the SRLN 2021 Forms Competition Recording
Contestant Materials

Special Note: if you are testing forms please ensure you do not submit or file a form you do not intend to.
Fun Facts about Contestants
States represented in the competition

Alaska, Colorado, Florida, Iowa, Illinois, Indiana, Louisiana, Massachusetts, Maryland, Michigan, Minnesota, Missouri, Nebraska, Nevada, Ohio, Tennessee, and Washington

Case types covered by contestant forms

General Civil: Administrative, Fee Waivers, Probate, Name & Gender Marker Change, Expungement, Workers Compensation

Family Law

Domestic Violence

Consumer Debt

Landlord-Tenant

Guardianship

Languages other than English

Spanish (most common), Somali, Vietnamese, Portugese, Chinese (simplified)
Obstacles contestants overcame and solutions they deployed:
Obstacles identified

Resistance to change
Challenges communicating about resources
Challenges publishing the actual form/interview
Engaging stakeholders
Legitimizing forms
Integrating with longterm planning
Finding capacity and time to develop forms
Limitations providing language access
Limitations created by rules

Solutions deployed

Cultivate relationships with stakeholders and involve them in design process
Cultivate relationships with form users and involve them in design process
Balance simple instructions & pragmatic navigation
Consider strategies for marketing and communicating about your form
Collecting use data to support your work and improve design
Invest in skills development to integrate maintenance with existing staff
Invest in translation services to expand language access – start with commonly spoken languages
Advocate for rules changes
Find a champion in your court system
Estabilsh a dedicated forms committee or role

User Testing approaches

Involve existing ATJ working groups and committees
Start with observable data from frontline staff
Create channels for internal feedback
Create continuous opportunities for feedback like surveys and collect data over time
Engage staff to surface opportunities to get direct use experience
Reach out to community organizations helping people where their issues manifest

Maintaining updated forms

Work to support a dedicated forms manager
Integrate updates with workflows as you create them - know how much capacity you are using
Track rule changes on commonly used forms - train about tracking rules
Establish a committee/working group with other organizations to share awareness
Engage subject matter experts to create buy-in and two way information channels for identifying necessary changes
Competition Details
Competition Categories
Best Static Form - stand alone forms, print or digital, that self-represented litigants can download and use.
Best Automated Form - forms produced from a type of guided interview, such as software like A2J Author, LawHelp Interactive, Guide & File, Documate, AfterPattern, and others.
The competition was limited to court, legal aid, non-profit or government organizations providing these forms to self-represented litigants.
Assessment Criteria
Judges will use the following components to assess submissions:
Comprehensibility - does the form deploy plain language? Does the form provide adequate information? Is its purpose clear? Are any accompanying instructions clear?
Design - is the form user friendly?
Navigability - can the form be navigated by the intended audience?
Service Integration - how well does the form fit within an existing process?
Judges will consider the effectiveness of the form as it is accessed by a user –  this includes any accompanying instructions to static forms and the quality of automated interviews. The most important criteria is plain language comprehensibility.
Winner Awards
Winners received one free admission to the next in-person SRLN Conference.