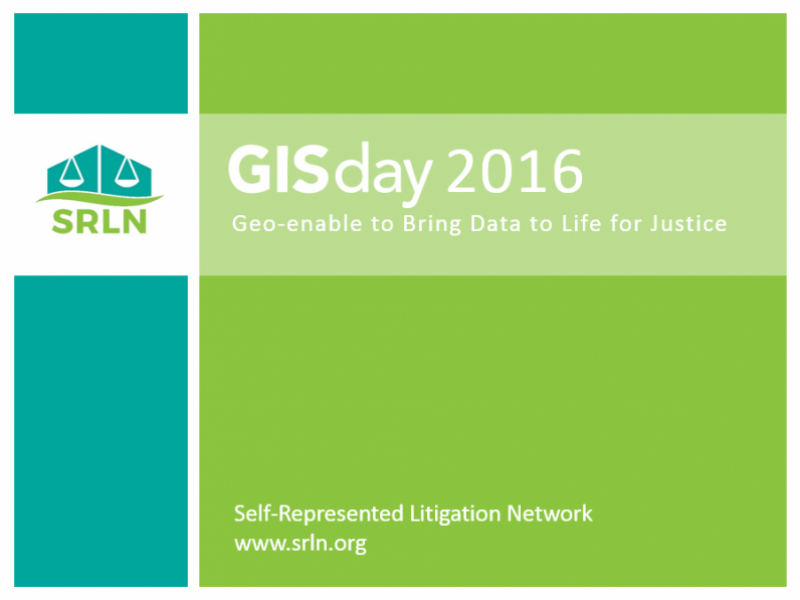 Webinar: GIS Day! Geo-enable to Bring Data to Life for Justice (SRLN 2016)
In coordination with GIS Day and National Geographic's Geography Awareness Week, the Self-Represented Litigation Network (srln.org)  has hosted and recorded a webinar on some of the ways geographic information systems (GIS) technology is being used to engage and empower the justice community. In the video, we briefly describe how GIS works and then we will explore what is possible when you activate the hidden geographic information in your data.
Attorney Robert Cole from Advocates for Basic Legal Equality (ABLE) discusses how GIS helped them identify who was at-risk for lead poisoning in Toledo, Ohio, and advocate for lead-safe environments for children and families.
SRLN GIS/Data Manager Alison Davis-Holland from SRLN shares a recent story map initiative - America's Civil Courts: Whom Do We Serve? - which is helping empower civil justice advocates and decisionmakers by providing information about the communities we serve.
Who    All are welcome. No GIS experience required.
When  Ongoing - This one-hour Webinar can be viewed at any time by registering.  (The original live Webinar was on November 16th, 2016.)

About GIS Day and Geography Awareness Week
This event is part of GIS Day, an international initiative for users of GIS technology to demonstrate real-world applications that are making a difference in our society, and National Geographic's Geography Awareness Week, a program to encourage citizens young and old to think and learn about the significance of place and how we affect and are affected by it.
About SRLN GIS
Visit SRLN's Map Gallery for more examples of our GIS story maps, apps, and map products. For more information, email SRLN GIS/Data Manager Alison Davis-Holland at [email protected].